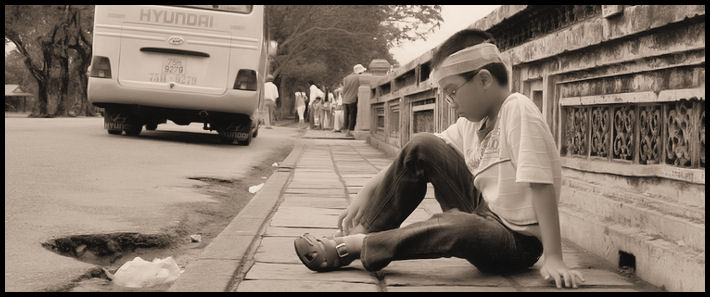 Knowing what I know now, I could have done so much more when I was younger.  It's a shame,  that almost limitless energy and passion I didn't use when I was in college.  That time I spent playing games late at night when I could have played toward my goals.  Or those even earlier years when I was too busy breaking driving laws instead of working on driving my future.
All of those missed hours, all of those unfocused efforts, all of that unfocused life.  I know it wasn't wasted because it helped me become the person I am today.  But, I didn't apply it the best way I could.  I regret a big portion of that unfocused time.  I could have done so much more.
The same applies for now.  If you imagine yourself in the future 10 years, looking back on today, what do you think you would tell yourself?  What kinds of things would your future, more-successful-self tell your today-self?
PRACTICE TIME: Give this some real thought.  Take a break and write 3 or 4 things down on a piece of paper.  Now fold it up, lock it away, and don't look at it for a year or more.  This will be a nice surprise in addition to being a great exercise.

If you want to take it up a notch, write a letter as your future-self to your today-self.  What advice would you give?  Anything to avoid or stop doing now?

Shine some light on today from a day much further away.  Go up, look back, and see the steps between then and now that will get you there.
Don't Dwell On It – Be Motivated From It
You might be wondering how this dwelling on the past could be helpful.  I mean, it sounds pretty negative doesn't it?  It does, but focusing on just the negative would miss the point.  Take note, you get to choose what you get out of your life – every waking moment.
What you expect guides what you get.
Don't wait around for that future date to do something.  Take the first step toward that future today and aim for the next step tomorrow.  It may be a 1,000 step journey, but it starts with that first decision to move.
If you know you want to write a book, start it.  If you know you want to teach kids, start reading about teaching.  If you know you want to race cars professionally, start hanging out with professionals.  If you want to be more than you are now, you have to do something different.  Something more you than you.
The pyramids were built stone by stone.
The Space Station was build module by module.
The railroads were laid one steel beam at a time.
Your town was built block by block.
A book is written in 1,000 word chunks.
A relationship is nurtured one flower at a time.
A child is raised hug by hug and time-out by time-out.
A mind is developed one ah-ha moment at a time.
You do so much more than you think and get so much accomplished.  Apply this to the areas of your life you want to grow.  Build your life one step at a time – go ahead and let yourself get started, now.