Quickly Discover How To Use Your Mind To Grow At Work & Home…
"How Your Personality Can Change Your Life, Career, & Relationships In 5 Minutes…"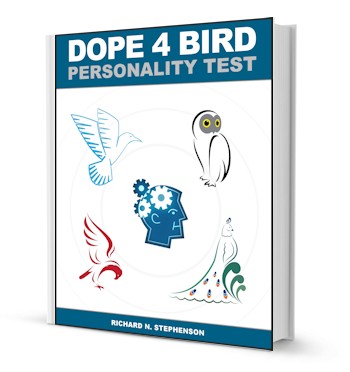 Tired of not understanding how others think & act?
Feel like your emotions are all over the place sometimes?
Confused about what comes next in your life?
Not confident enough to strike up a random conversation?
Secure Your Relationships, Regain Control of Your Emotions, Spot Future Pitfalls, and Never Let Small Talk Scare You Again…
The DOPE Bird Personality Test will help you peek inside for what matters most.
More easily control depression & anger
Grow your relationships with real communication skills
Make it fun with easy & memorable bird types
You will grow your self confidence and motivation by understanding yourself and those around you.
Protect yourself from being manipulated by the other personalities
Impress your leaders with the language of success
Up your strengths to get your future on the right path
Why You Shouldn't Buy This Test…
This test and workbook aren't for everyone. Those who won't invest a focused 1 hour or so figuring out their personality and how it can change their lives won't be interested.
…but what about you?
Here are some people that use this test in their lives, businesses, and everyday operations:
Head nurses and nursing teams at medium to large hospitals
Human resources (HR) personnel at small and medium companies
Trainers, life-coaches, and counselors in their own businesses
Go-getter hard working folks looking to boost their career & personal growth
Parents that want to handle family matters with ease
Over 2,736,778 people have changed their lives with this test.
The real question is: who couldn't use more clarity, direction, and ideas in doing what they do?
What Customers Are Saying
I find the bird concept fascinating and easy to remember. I have brought up this concept in my massage therapist practice with clients, and they too, find themselves mentioning it to others. -Dana (Canada)
We're big fans of the test, and really believe that it delivers a lot of insight for very little effort, which is ideal in a recruitment environment. -David (New Zealand)
Your "D.O.P.E." assessment was used and was very instrumental in helping students and faculty better understand their inner natures for addressing personal conflict. Actually, it was a big hit with all who participated! -Homer (United States)
Tools To Help Your Next Step Up
Your options include the DOPE Bird Test Package tools:
Accurate, reliable, and thoroughly tried full-version personality test
Detailed results to guide you deeper into your personality type
Bonus workbook to put what you learn immediately into use
You can access your products immediately after purchase or at any time by the link in your confirmation email.
If you're with a larger group, bulk licensing options are available on the checkout page. (Bulk discount pricing is applied automatically)
Money-Back Guarantee
Download the book, take the test, digest the workbook, and if you don't feel as if you're looking in the mirror, a mirror that reaches beneath your skin and shows you who you really are, then simply send an email through the contact form and you'll get a full and prompt refund.
Get the DOPE Bird Personality Test
Test & Results Only
Includes these Printable PDF tools:
Complete Test & Results eBook

$7.97
Test, Results, & Workbook
Includes these Printable PDF tools:
Complete Test & Results eBook
Your personality type Workbook
$9.97