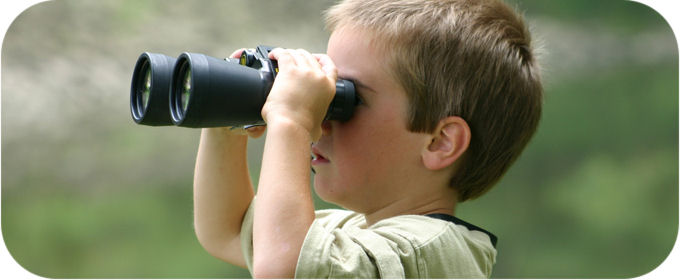 We're best in all that we do when we go into things without any type of judgments on mind and with a curious approach. What's the best way to get into this wonderful state of child-like awesomeness? Explore. Explore like you've never explored before. Open up the doors of possibilities and see what's on the other side.
This post is part of a 14 part series on How to Be a Better Person. I've also super-duper fancied this group of posts up into an Amazon Kindle book. Check it out: Forget Perfect, Just Be Better: 101 Simple Ways to Grow in Relationships, at Work, in Life, and Through God.
1) Hunting the Unhuntable
Surely you've heard of the mysterious 4 leaf clover by now. Told by many a fun-loving adult to their lovingly fun children. These wonderful little plants are promised to give you years and years of good luck and great fortune. There's only one catch. They're extremely difficult to find.
Did that fact ever stop us? Did we ever just plop down on the ground and give up looking for a lifetime of good fortune and fun? Nope. We kept looking. We knew the odds were stacked against us but the hope was strong. The hope and work kept us going.
Find a local park or low-traffic green area. Get on your hands and knees and check out every square inch.  Look for a plant you've never seen before. It doesn't have to be a 4 leaf clover, but you get bonus points if you find one.
Explore the world with new eyes, and make your own prize.
2) Guided Meditation
I thoroughly enjoy telling stories to my kiddos, whether the stories are from books or made up on the spot. There's just something about the trance-like state of enjoyment they go into when story time happens. You know what I like even better than that? When someone can get me that interested in something.
Meditation can be something as simple as a short prayer to God or as complex as experiencing your personality through the life-cycles of a butterfly. There's only one major problem… not many folks know how to do it. While the short prayer version is easier, the more complex version works great with some help.
Search YouTube for a guided meditation exercise. There is a lot of hokey stuff out there, but there are some pretty decent ones that will blow your mind with relaxing, purposeful exploration. Okay, okay, I'll pick – try this one.
Get some help, explore yourself, and meditate on.
3) Museums Have Lesson?
I remember enjoying those rare field trips when we would get to go to the local museums. Sure, it was supposed to be schoolwork related in some way, but I didn't care. I got to get out of the classroom and hang out with my friends. That was the real point, right?
Every single piece of art, decoration, arrangement, and letter in a museum has a purpose or meaning. The really old stuff is especially interesting. Can you imagine the people that carved that mask from 800 BC? What were they thinking while they whittled away at that log? Who was it for? How long did it take? Did the artist stick her tongue out in concentration during the carving?
Hop over to the local museum or zoo.  Go to every exhibit.  Read the plaques.  Walk away with at least 5 new facts or insights. Really dive into the whole story and see what you can find or make up.
Find the story in everything and be constantly amazed.
4) Wandering Aimlessly
Oh the feeling you get when you're lost. Add on "late, tired, and hungry" to that and you have a wonderful combination, right? Frustration is the main thing on your mind at that point and you know no one is having any fun. Do you know anyone that's ever tried to get lost on purpose? Doesn't work that way for some reason.
What if we took the 'bad' out of the equation and focused on just the 'lost' part? Would we really be lost or is 'lost' just a word we use when we're exploring and frustrated? It's too bad. Exploring is only a change-of-mind away from lost.
Get in the car, point yourself in a direction, and drive.  Put a sticky note over the clock, turn off your phone, turn off the GPS, and have no destination in mind.
Go out of your comfort zone and zone out.
5) Pronounce This
I've come across quite a few lovely dishes I would never have eaten if their names were in English. Funny thing is, they were absolutely delicious. Sure, I didn't know how to cook them but a friend or internet search was always a phone call or click away.
You might remember a story about some green eggs that came with some similarly colored ham, right? Why is it we've come to forget the point of that story? You've got to give new things a try before you shut them out of your life.
Go to a local ethnic grocery store.  Buy 3 things you can't pronounce.  Use them.
Possibilities are a willing mind away – will it already.
6) Eat It, I Dare You
Are you the kind of person that goes to 7 different types of restaurants and orders the Cobb salad, fish and chips, fajitas, or chicken-fried steak? It seems like no matter where you go, restaurants cater their menus for folks just looking for the safe and easy choice.
Comfort. Yes, I know it is a lovely and wonderful word. Unfortunately, it usually come along with complacency and luke-warmness. We find a route we like and we tend to stick with it. It worked for us once, but that doesn't mean it is the best route of all time.
Go to a new restaurant and order something unfamiliar. Want to really go out on a limb? Ask the waiter to pick their favorite dish or maybe the house special. Do NOT order something you're familiar with.
Just try it – you might like it.
7) Howdy Neighbor
Think back to the last time you went on vacation or stopped in a small town on a road trip. How did you feel when you walked around the local restaurants, grocery stores, or malls? Out of place? Curious? Adventurous? Special? Like you could do whatever you want and it wouldn't matter?
You might be amazed at how much you're actions are determined by the people  around you. You get familiar with people, you know they expect you to act a certain way, and you might tend to stick to that path just to keep from stirring the pot. Question is, is this trend holding you back?
Travel to a town near to you that you've never been to.  Walk around some of the stores and observe people. Chat up a few conversations and ask what's on their minds.
Be better than you. Be a new you. Be the new you that you want to be.
7 Steps to Becoming a Better Person by Exploring
Hunting for 4 Leaf Clovers
Guiding Meditation
Museums Have Lesson?
Wandering Aimlessly
Pronounce This
Eat It, I Dare You
Howdy Neighbor
I hope you're well on your way to becoming a better person now. Get out there and explore some more of this awesome world you live in.
Want to get the whole series in a convenient ebook?
Check it out: Forget Perfect, Just Be Better: 101 Simple Ways to Grow in Relationships, at Work, in Life, and Through God