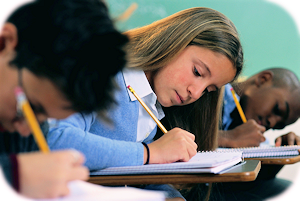 Did you know there are all kinds of self help tests online.  They are easy and a lot of fun to take.  These aptitude tests can be a insightful and will show someone's weaknesses and strengths. Some of them will only take a few minutes to complete and will provide a lot of interesting information.
Most people like to know a little more about themselves.  If you are one of these people then you might want to try one of the online tests.  Start with one that is free. There are others that you can pay to take, but the simple online tests often give good insight.
Things to Remember When Taking Online Tests
When you take the test, do it by yourself.  Having a group of friends influence your answer, will only be confusing.  Sometimes you might be shy about really stating how you feel if others are listening.
Some of the self help tests online have time limits.  Make sure you know that in advance so you don't take to long on the questions and miss the complete test.  Make sure you read the directions before starting the test.  Often people mix up the answers and the test fails to reveal any helpful insight to someone's personality.
Many of the tests have answers that you rate from one to five.  Be honest and do your best.  They will often ask you to agree or disagree.  Remember, there are no right or wrong answers on these tests.  If you are not truthful, you will only be kidding yourself.
If the results come back from the test and they don't seem anything like you, then you may have misread the questions or forgot to answer some of questions.  Try it again and see if you get a better result.
Why Should You Take Self Help Tests?
Taking this type of test is a good way to see how other people view you.  You might not realize that you have certain strengths.  Of course be ready to find a few weaknesses.  Don't be too hard on yourself.  That is what the test is for and it says a lot about you.  After all, you are taking the test to see some personality traits about yourself.
Have some fun with the test.  Be honest and see what it tells you about your personality.  It could help in future relationships to understand what kinds of people you work best with.
Ask your friends to try taking one on the online tests and then compare notes.  It is a way of getting to know more about yourself and maybe improving in areas where you are weak.  If you are shy and have a hard time meeting people, the test will bring that out.  You may have known that about yourself, but never really admitted it.
You will be able to see your strengths and maybe you will develop ways to use them for your benefit.  Some people have several strengths, but they never develop them.  So take the good and the bad and put it all together and you will see a picture of yourself.  Enjoy, have fun.  After all, it is a learning experience and it is up to you to do what you want with the results.