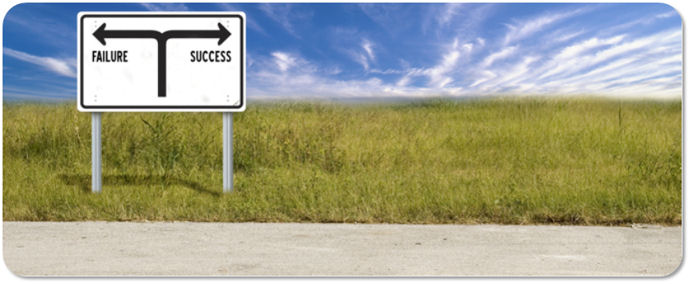 There's just something about reading over the failures of famous people that gives me a real boost. Not because they failed, but because they kept going. They faced those road-bumps head-on and just kept on truckin'. They were just regular folks like you and me until they beat their obstacles.
That's the kind of thinking I like to keep going! Looking to all problems that come across my path as chances to boost me to the next level. Or at the very least, give me one small lesson on how to live life more effectively next time.
I've done some fun research to come up with 32 examples of very famous people falling flat on their faces, getting back up, and totally owning success like no one's business. Who did I come up with?
Soichiro Honda
Stephen King
Babe Ruth
Thomas Edison
Harland David (Colonel) Sanders
Oprah Winfrey
Dick Cheney
Albert Einstein
Theodor Seuss Giesel (Dr. Seuss)
Isaac Newton
Charles Schultz
Elvis Presley
The Beatles
Winston Churchill
Steven Spielberg
R. H. Macy
Fred Astaire
Sidney Poitier
Charlie Chaplin
Michael Jordan
Walt Disney
J. K. Rowling
Marilyn Monroe
Milton Hershey
Ludwig van Beethoven
Ray Kroc
Akio Morita
Abraham Lincoln
Bill Gates
Frank Winfield Woolworth
Henry Ford
John Grisham
If this list doesn't inspire you and want to make you give your life your very best, I don't know what will.  Here goes.
32 Famous People Failures – The Lessons Learned:
So what, right? That's just a list of names. Well, let's dive right into what happened, what they learned, and what you can learn from each person. Ready?
Soichiro Honda was turned down by Toyota during a job interview for an engineering position. Yes, THAT Honda.
Stephen King's first book, Carrie, was rejected 30 times before he threw it in the trash. His wife saved it and urged him to follow through.
Babe Ruth is famous for his home run records but also holds the world's record for the largest number of strikeouts.
Thomas Edison, who has 1,093 U.S patents to his name, was told  by a teacher that he was too stupid to learn anything. He also did more than 9,000 experiments before creating the first successful light bulb.
Harland David (Colonel) Sanders started his KFC dream at 65 years old. His fried chicken recipe was rejected 1,009 times.
Oprah Winfrey had a rough and abusive childhood and was fired from her job as a reporter because she was "unfit for TV."
Former United States Vice President Dick Cheney flunked out of Yale University. Twice.
Albert Einstein couldn't speak fluently when he was nine years old and his parents concluded he was mentally retarded.
Theodor Seuss Giesel (Dr. Seuss) was rejected by 27 different publishers for his first book, To Think That I Saw It on Mulberry Street.
Isaac Newton performed so poorly in grade school that his teachers lost hope for improving his grades.
Charles Schultz, creator of the Peanuts comic strip, had every cartoon he submitted rejected by his high school yearbook staff and was later rejected for a position with Disney.
Elvis Presley was told by the Grand Ole Opry manager, Jimmy Denny, "You ain't goin' nowhere, son. You ought to go back to drivin' a truck."
When just starting out, The Beatles were told, "we don't like your sound, and guitar music is on the way out."
Winston Churchill failed the 6th grade. He eventually became the Prime Minister of the United Kingdom during WWII.
Steven Spielberg dropped out of junior high school, went back to be in a learning-disabled class, stayed a month, and then dropped out of school forever.
R. H. Macy started seven failed business before finally succeeding with his store in New York City.
During Fred Astaire's first screen test with MGM, he was told he, "Can't act. Can't sing. Slightly bald. Can dance a little."
The casting director for Sidney Poitier's first audition asked him, "why don't you stop wasting people's time and go out and become a dishwasher or something?"
Charlie Chaplin's act was initially rejected by Hollywood higher-ups because they felt it was a little too nonsensical to sell.
Michael Jordan was cut from his high school basketball team for a "lack of skill." He kept on and even after making it pro he says he missed more than 9,000 shots, lost almost 300 games, and missed the game-winning shots 26 times.
Walt Disney went bankrupt four times before finally succeeding. Along the way, he was told he lacked imagination and had no good ideas.
Harry Potter's J. K. Rowling was a penniless, depressed, divorced, single mother, attending school while writing her novels. Five years later, she's doing quite well.
Marilyn Monroe was dropped by 20th Century-Fox after one year because her producer claimed she was unattractive and couldn't act.
Milton Hershey's chocolate enterprise was his third business after failing on the first two.
Ludwig van Beethoven's music teacher once said, "as a composer, he is hopeless." Later, he lost his hearing but continued to make inspiring and well appreciated music.
Ray Kroc was s 57 year old struggling malted milk machine salesman before he borrowed all of the money needed to buy out the McDonald's founders.
Akio Morita's first product, a rice-cooker that actually just burned rice, only sold 100 units. His company is now called Sony.
Abraham Lincoln failed in business three times and failed campaigning seven times prior to becoming President of the United States.
Microsoft's Bill Gates was a Harvard University dropout and his first business, Traf-O-Data, was a failure.
Frank Winfield Woolworth, founder of one of the largest retail chains, was told by his dry-goods store manager the he "didn't have enough common sense to serve customers."
Henry Ford was a failure at three businesses before finally succeeding with Ford Motor Company at age 53.
John Grisham started out as a lawyer who loved to write. His first book A Time to Kill took three years to write and was rejected 28 times. He's now gone on to sell over 250 million copies of his books.

They're All Anthills I Tell You
Now's the time for me to remember that my little problems are just that: little. But that they are small gifts from God reminding me that… I CAN DO THIS! And so can you.
If you'd like a boost-up in the self-confidence and esteem growth process, a practical, simple, and useful tool is available. Consider taking action now so I can one day read about your success. :)

Have a great day!