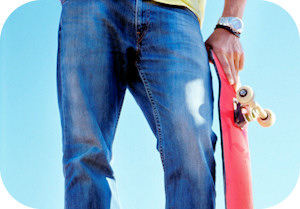 You know the feeling of always being broke, never quite having enough money to cover everything?
Maybe you run out of money before payday every week, and every week you swear that it will never happen again, but it does. *sigh* It get's the best of us and never gets any more fun when it happens.
But Wait, There's a Secret to it All
Here is a secret… it doesn't have to be this way.
Anymore.
Ever.
You really do have the power to change things and take control of your finances without losing your mind, or your pants. With a little planning, some self control, and a lot of patience you can reduce your spending and put yourself back in control of your money.
Money Awareness is Step One
First things first, in order to reduce your spending you need to know what you are spending money on.
Before you can change bad habits you need to identify them, so keep a detailed record of what you spend every penny on for two weeks.
Keep track of why you make each purchase, whether it is a fast food meal or gas for your car. Knowing why you spend is as important as knowing what you are spending money on.
Trust me… it only takes 3 weeks or so of this to where you're so sick of it you won't want to spend money on anything. That's not really the point of it, but it sure as heck makes it easy to remember the next time you're tempted to grab the credit card.
Inspect Your Life Notes and Find the Holes
Next take a look at your notes. Are you spending money on things for any other reason than necessity?
In other words, are you shopping because you are bored or didn't plan well? You are going to buy a lot of fast food if you don't get some groceries and plan some meals!
We often overspend just because we don't plan well or because shopping has become a habit or leisure activity.
When you are bored do you head to the mall? If you have had a bad week do you buy yourself something to cheer yourself up?
Spending money is closely linked with our emotions, and stores know that. They make you feel so welcome and wanted that you turn to shopping for support or entertainment when you should be looking elsewhere.
The next time you are bored, pick up a real hobby like reading, drawing, watching a movie, or anything besides picking up your credit or debit card!
Don't Hate, Just Budget-ate
Take the time each week to make a budget based on your income and your outgoing payments.
Once you figure out exactly what you are paying on your bills you can see how much money is left over for spending or saving.
Remember, you will need to have some money set aside for things like groceries and gas, plus you will need to have a small allowance for things like clothes and entertainment. Decide what you value most and set aside money for it so you won't feel you are depriving yourself.
If you find that you have money left for these things, and possibly more, then you are in good financial shape.
If you find that after paying the bills you have barely enough or not enough money left for food, gas, and extras you are not really that financially fit, and need to work to get yourself in shape!
And Now Your Choices Are Before You
At this point you have a few choices. You can either make cutbacks in spending by cutting unnecessary purchases and services, or you can work to bring more money in each week.
You could even do a combination of these two. Decide if you can live without cable TV or satellite radio, or even consider switching to a cheaper package.
Can you save money by taking your lunch to work every day instead of buying it? You could save a lot of money by simply reducing the number of times you eat out each week and plan to cook meals at home instead.
But What if I Don't Want to Cut Back?
If you aren't willing to make cutbacks just yet, try bringing in more money. A few hours of overtime at work, an extra part time job, or even asking for a raise can all bring extra money in that can be spent as needed or saved.
Ultimately it will benefit you more to learn how to say no to your inner child and stop buying things you don't need, so bear this in mind when you are deciding what to do.
Spending Less on the Road to Happiness
If you get control of your spending you will be happier and feel more in control of your life.
Time management, focus, motivation, and even a little creativity are all important strengths you'll need to make it work. Here's a good starting place when you're ready to get it going.
It is possible to do, but may take a little time. You're making a good first step into looking more at ways to sew up those holes in your pants.
Stop the burning and get to earning!