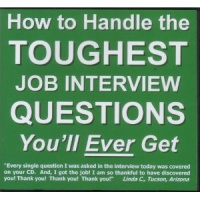 Just finished up on this audio presentation:
How To Handle The Toughest Job Interview Questions You'll Ever Get
by David R. Portney
Publisher: David Portney & Associates (June 8, 2007)
ISBN: 978-0976987888
Rating: 7.5/14.0
Pros: Good, solid interview / research tips.
Cons: The data is a little dated and I disagree with some philosophies behind some of the questions, but these are just suggestions: take what you want and leave the rest.
Assessment: The audio download for ~$10 is probably worth it… though most of the tips could be found on the internet.  The $20 CD is NOT worth it.
My notes are below. Here is the link to the Amazon listing for this product.
==================================================
General Ideas:
write down your answers for practice, not memorization
list of questions: gethiredquick.com
short, to the point, and actually answer the question they actually ask
always be positive, never be negative
in a group interview, your answers AND behavior will probably be monitored.  Pay attention, be respectful, and professional.
your interview task is to NOT provide a reason to be dumped
be natural in the interview… don't sounds rehearsed… pause when necessary
all 'bizarre' questions answered professionally – tailor answer to how qualities apply to company

General Guidelines:
Keep answers brief – if they want to know more, then they will ask
Always be positive with your answer no matter the question
Keep answers focused on what you can do for the company
Questions / Answers:
Q: Have you ever been fired? –> be truthful, focus on what you've learned since then
Q: Tell me about yourself. –> keep things professional, how you can benefit the company, stories that extoll such benefits
Q: Tell me about the worst boss you ever had. –> pick out a positive and talk about you wanted more
Q: Why should I hire you? –> extol qualities that benefit the company
Q: Tell me why I should hire you instead of more experienced? –> flexibility in me being green / not set in ways
Q: Tell me some strengths. –> apply strengths VERY specifically to the position your are applying for
Q: Tell me some weaknesses. –> turn it into a strength (this is played out) or tell about an actual weakness, but make sure it has nothing to do with the position you are applying for
Q: Tell me about best job experience. –> Talk about position / task that provided great opportunity / challenge
Q: Tell me about worst job experience. –> Talk about position / task that did NOT give opportunity / learning / growth
Q: If you could be any animal, what would it be? –> Pick an animal that captures the qualities relevant to the job
Q: How come you haven't found a position, yet? –> You're selective / picky.  Don't want to waste employer/your time.  Want to make a good fit.
Q: What would your previous boss/coworkers would say about you? –> say a few good qualities and apply to applying position
Q: Why do you want to work here? –> extol company based on your research on the company – talk about their needs / your solution