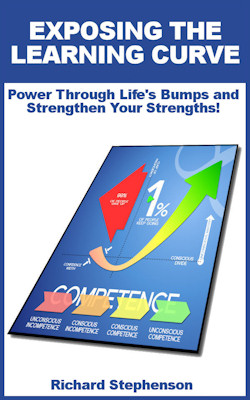 Making Lifelong Learning Fun – Desire or Theory?
Sometimes we get in a rut and aren't really sure what to do.  We mope about and wonder when will we finally get that big break or special bit of luck to carry us right on and up out of it.  What if that break never comes?  Does your desire to learn just drop off and die right there?  It just might… unless you know more about your *current* place on the Learning Curve.
Ask yourself these questions now:
Have you ever come across a subject you found a bit challenging and never really felt "in the groove"?
How about trying to pick up a new skill and gave up because you didn't think you were good enough?
I propose you just didn't know you were in Phase 2 of the Learning Curve and were SO CLOSE to moving on to mastering your new interest.  All you had to do was put in a little more effort for a bit longer and you'd be nearing wizard status.
Learning Styles and Learning Theory – More Definitions!
The 4 Phases of Learning, which fit quite nicely into the Learning Curve depicted in my Infographic Data Visualization on Learning Theory.
Unconscious Incompetence – A.K.A.: Ignorant
Conscious Incompetence – A.K.A.: Quitter or Champion (You get to decide)
Conscious Competence – A.K.A.: Skilled.
Unconscious Competence – A.K.A.: Expert
There's also a mysterious 5th Phase that… well, you'll just have to read the book.
Check it out now, if only to read the bit on Phase 2.  This is the real sticking point for most people and can be a real brick wall to growth and success.  Oh and don't forget to see how many knitting puns you can notice in my example. :)
Happy reading!
How this book will change your life (when you let it!):
Learn to spot which phase you're in – awareness matters!
Exercises to strengthen your understanding
Strengthen your strengths
Get your own free copy of Exposing the Learning Curve by signing up for my free newsletter. I won't email you very often at all, your privacy is super-important to me, and I'll only send you stuff I think is important enough to share.
Sign-up below and your copy of Exposing the Learning Curve will be on it's way soon!