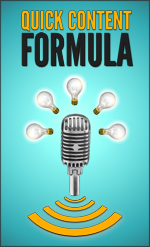 This is the resources page for the book Quick Content Formula by Richard N. Stephenson (that's me!). All of the tools, interesting links, and useful resources mentioned in the book are listed below with a short description.
I'll add to this list from time to time to help add value and make sure your journey to being more efficient and awesome is a fun one. Also, some of these links are through my affiliate partners. While the partners do compensate me for using them, I will only ever recommend a product I know, like, and trust. I hope you will, too.
If you have any comments, questions, or suggestions, then please enter them in the comments section below this list of resources. Thank you!
Book Resources:
1) iPIG – Info Product Idea Generator Script (don't even worry about brainstorming again)
2) Idea Grid Brainstorming Cheat-sheet (this is the easier method)
3) Idea Grid Example (same as the one used in the book)
4) QLQ Brainstorming Cheat-sheet (this is the tough method)
5) My Vocal Booth Pictures (as promised, the scrappy setup I use for vocal recording)
6) My Phone as a Cue Card (a few images showing my phone cue card system)
7) Rode Videomic (great for noisy areas, general recording, dictation, video production)
8) Zoom H2n (great for interviews, general recording, dictation, & audiobooks)
9) Vocal Booth Wish-List (I'll invest in this one day!)
10) Cue Card Slide Example (same as the one used in the book)
11) Timing Chart Cheat-sheet (to get your dictation timing right)
12) Vocal Restoration Tonic Recipes (a MUST for batching)
13) WP Import (never press "Add New" again, a MUST for batching)

14) Keyword Researcher (long tail keyword golden nugget locator)
15) Market Samurai (long tail keyword vetting tool, explorer, & new keyword generator – I'm still using the time-out trial as the keyword researcher function is top-notch, though a little slow)
16) Long Tail Pro (another good keyword researching suite and blazing fast – not mentioned in the book)
17) Strengths Test (free tool to help you focus all future efforts through your strengths)
If you have ANY comments, questions, or suggestions, then please say so in the comments section below. I check this stuff everyday! :)