Welcome to the DOPE Bird 4 Personality Types Test — Online Version. This simple and quick tool will help you discover more about yourself and where you're headed in life.
Here are a few details about this test:
there are 20 questions with 4 choices each
this test is not timed, but should take about 5 to 6 minutes
your results are on the next page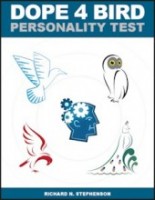 Test Directions:
For each question, pick the word that best describes you
If you want to know what a word means, hover over that word's radio select button
Answer honestly and expect to get something useful out of your results
Ready to take the test? Let's go.
Test Questions:
(You can hover over the answer bubbles/circles for word meanings)