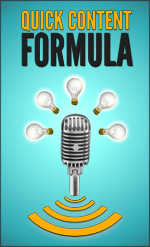 Content marketing. It's all the rage and if you're not on the "create useful content for your audience" train, then you're completely off track.
But there's a bit more to it than that.
You can't just put anything out there on your blog, in your newsletter emails, or on your landing pages. It has to be something compelling, with personality, and really valuable.
How many hours per day do you have to commit to making the best stuff out there…
Now how many extra hours are left to do other things that grow your business?
Should You Outsource Your Content?
Sure, we can all outsource our content if we don't have enough time. But how many $10 to $40 articles can you pump out before the well runs dry?
Is that going to be a huge return on your investment?
Will the content be in your voice?
Will the content be aligned with your audience?
Will the content have the impact and direction you really want?
It's time to let go of everything you know about creating content that people absolutely want to devour and bring into their lives.
It's time to embrace the Quick Content Formula (QCF).
5 Minutes to Valuable, Personable Content
With only a 5 minute block of your time, you can create great 600 word blog posts, articles, sales page copy, parts of a non-fiction book, chapters of a special report ebook, short letters, essays, work emails, newsletter autoresponders, and just about anything you can think of or break into 600 word chunks.
The formula includes STEP BY STEP instructions for:
Finding ideas from many different sources including brainstorming, competition, and big company market research
Using software, hardware, and methods required to get your ideas into reality
Cleaning, editing, importing, scheduling, formatting, and awesome-i-fying your content so readers will actually care
The QCF method will help you stand out from the crowd, you'll be able to catch up to those ahead of you, and surpass those that just aren't as serious enough. You'll grow your business, blog, and audience at awesome levels. And hey, you'll become more fluid in your speaking and thoughts.
Here's what's covered:
What Is The Quick Content Formula (QCF)?
Why Use The QCF?
My Proof (numbers, traffic, money, & more)
Part 1: Unlimited Ideas
– Become A Brainstorming Master
– Big Websites, Big Hints
– Learn From The Competition
Part 2: Content Creation Machine
– It's All About The 4MAT, Baby
– Time To Execute Your Ideas
– Let There Be Transcriptions
– To Batch Is To Scale
Part 3: Release And Impress
– Importing And Scheduling
– Look And Feel
Could you use more valuable content in your life and business?
Ready to Create Awesome & Quick Content?
Already have the book? Check out the QCF Resources Section by clicking here.