This guide is a collection of many of the best "meta-level" or "operating system" strategies I've run across through the over 500 books I've read in the last few years. While each individual strategy cue card may be useful by itself, it is meant to be a prompt for your own thoughts, actions, products, and services.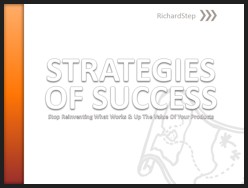 For instance, most of the books I have available on Amazon were designed in a specific fashion to ensure a valuable product was created:
Research the topic and find a key component of it that is relevant to my niche market
Brainstorm the 3 to 5 most important points that teach the essence of the key component
Apply a proven strategy to the content to transform it from boring data into practical wisdom
Step 3 above is what this guide is all about. No one wants to read raw data from a database. No one wants to read a pivot table of rolled up data, either. Even further, no one wants to read about a bunch of prettied-up facts put in a readable book format. People want wisdom they can apply to their lives today. In fact, the "DIKW Pyramid" strategy card covers this point.
For every product, service, or goal you put in place… for every blog post you do, every video you plan, and every presentation you give… for everything that you do, do not reinvent the wheel of strategy and turning information into actionable wisdom. Use the hard work of others to help turn what you have into something your audience wants. Do this and you will be providing more valuable content that will reward your audience and your efforts.
This guide and it's application is relevant to everything you do at work, in your side business, at home, in relationships, parenting, and in hobbies. Your task is to figure out how to make them fit, and then implement.
Here is a short sample of a few of the strategies included inside (there are 59 total):
Approaching the Unapproachable
6 Step to do the Work of Worrying
Tackle the Fear of Starting
Warning Signs for Procrastination
Creatively Creating
4 Common Characteristics of Any Conscious Creation
6 Principles of Successful Ideas
Creating a Learning Video Workflow
Focusing Forward
9 Essentials of 80/20 Success at Work
Google 70-20-10 Rule
SMART and RED-E Goals
Market and Audience Research
10 Most Stressful Life Events
Defining Your Best Customers' Market
Top 3 Issues for Arguments (Men & Women)
New Ideas and Products
5 Major Distractions
DIKW Pyramid
Full 4MAT Process
Talking and Convincing
5 Basic Stages of How an Angry Person Develops (Bell Curve)
Using the Metaphoric Method
Utilization Approach to Hypnotherapy
Understanding Soft Skills
4 Dimensions of Emotional Intelligence
Emotional Intelligence (EI) Competencies of Relationship Management
Process of (non-woo-woo) Manifestation
~~~~~
Get Your Copy of The Strategies of Success