If you find yourself mulling over the idea of launching a second career, you are not alone. The America that was once filled with workers staying at the same workplace for their whole careers has shifted. For more and more of us, a mid-life career change is a viable and desirable way to refocus and re-energize our lives.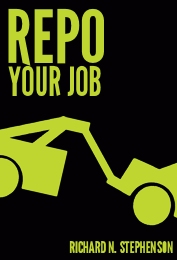 The shift has been caused by economic, technological and lifestyle changes of the early 21st century. Maybe you're tired of waiting for the axe to fall as the latest round of downsizing hits your company.
Perhaps you are itching to take advantage of the opportunities the internet affords you to start your own web-based business. Or maybe you are simply feeling burned out by your current career and are longing for more fulfillment in your work.
Whatever your motivation, you can take back your future. With proper planning, you can re-direct your life and launch a whole new career – one that will give you the fulfillment and challenge you are seeking.
It's Time To R.E.P.O. Your Job
This book will cover the 4 Step R.E.P.O. process to changing careers. The goal is to help unfulfilled, but employed, folks find and transition to a new, more fulfilling job.
You are about to embark on a journey to REPOsses Your Job. It's time for you to take back what is rightfully yours and start living your life on purpose. Here's a run-down of the simple 4-step R.E.P.O. process to repossess your career and future:
Step 1: Realization – understanding what's really going on.
i) Determining if it's really time for a change
ii) Discovering strengths, personality, and abilities
iii) Assess accomplishments and realize goals
Step 2: Exploration – safely figuring out what will work for you.
i) Using your same skills for different applications, industries, positions
ii) Informational interviews and understanding a position before doing the work
iii) Testing the waters, contracting, and figuring out what works for you
Step 3: Preparation – getting your ducks in a row.
i) Your environment (family needs, future wants) and safety nets
ii) Creating an action plan, a contingency plan, and your expectations
iii) Improve your current skills, and get more skills, before you leap
Step 4: Ownership – committing to doing what works best.
i) Understanding, calculating, and taking risks to get what you want
ii) Searching and networking to find (and get!) the right job
iii) Commitment to change and then choosing to jump
If you're ready to get more out of everything you do professionally, then it's time to grab the wheel and steer this career just the way you want. Let's get started!
==[ Table of Contents ]==
Introduction
Step 1: Realization
Step 2: Exploration
Step 3: Preparation
Step 4: Ownership
Conclusion
R.E.P.O. Final Exam
=====
When you follow the R.E.P.O. steps outlined in this book and add in your own unique purpose, talent, drive and commitment, you will see that making the choice to begin a new career can be the best decision you ever make.
~~~~~
Ready To REPO Your Job?