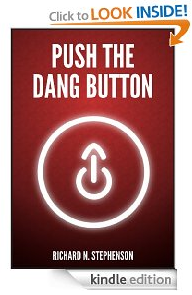 Ready to start making productivity a bigger part of your life?Got some goals that have been taunting you from afar for a very long time?How's your to-do list looking these days?
*sigh*
Too often we just keep letting things pile up higher and higher without realizing any of the big things we set out to get done in life. Sure, we know about the famous ways of boosting productivity out there (systems, methods, blueprints), but how many have stuck?
Few, to say the least.
There's one big problem we aren't paying attention to before we pick up the hammer… how to use the dang thing!
Do you swing at the first screw you see?
Do you use it on a 9″ railroad spike?
Do you use it to spread butter on your toast?
Nope.
Systems are the hard-skill tools needed to implement a deeper understanding of the path and process at hand. Until you understand that process and way-to-goal-completion, you're just smacking a piece of bread into a pile of mush.
PUSH THE DANG BUTTON is a book about getting you in order, focused, and a master of the methods before you touch a single tool.
This isn't just a motivation journey through becoming a better person. This is the meat and potatoes of clearing the fog that's currently making getting goals done so tough for most folks.
This book is out and ready to get your inner fire going!
Are you ready to Push The Dang Button, yet?
And If I Might Add A Few Words…
Everyone needs help overcoming the fear of starting. Whether it's at the beginning, the middle, or wherever they're at. Knowing that they can start at many mutually awesome places, instead of just one perfect place, is a wonderful breakthrough thought that a lot of people need help with.
Understanding genesis is all about seeing how what's inside of you progresses through to an outcome that helps everyone else out. We all have a lot of mental programming that was useful for us at the time that we used and learned it, but might not be as useful anymore. We need to take an active approach to reprogramming ourselves and to guide the new useful thoughts that come out into feelings that push us forward to achieve the things that matter most.
When we focus on consciously creating, instead of just sitting back and watching things happen, we begin to get things done. We know we don't have to be the most original or creative people in the world to create something that changes lives, whether our own or someone else's. We can recombine what exists, leverage our resources, and completely change the way things are done just by simply retelling the story from our own point of view.
==[ Table of Contents ]==
The Art of Pushing Buttons
Part 1: The Fear Of Starting
Ch. 1: Starting Points
Ch. 2: You're Allowed To Learn As You Go
Ch. 3: Chunking For The Win!
Part 2: The Process Of Genesis
Ch. 4: Programming Leads To Thoughts
Ch. 5: Thoughts Create Feelings
Ch. 6: Feelings Drive Actions
Ch. 7: Actions Bring Results
Part 3: Conscious Creation
Ch. 8: Rearrange The Existing
Ch. 9: Leverage What You've Got
Ch. 10: People, Ideas, And The Flow Of Things
Ch. 11: Providing Value To The World
Part 4: The Stages Of Want
Ch. 12: Getting It Down
Ch. 13: Ultimate Love
Ch. 14: Wanting It More
Ch. 15: Heat Seeking Mission
Are you ready to Push The Dang Button, yet?