If you're like most people, especially introverts, then you can't stand the thought of small talk. Is it because it just seems like a waste of time, it puts you on the spot, or you have some really bad memories? And it can happen far too often for some folks, too…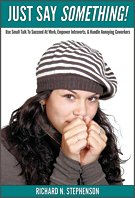 What do you say when you're in line at the grocery store? Hopefully nothing, right?!
What about when you're in a waiting room or lobby waiting your turn for the doctor? Not a word! Where's the magazine rack!?
How about waiting in line for the microwave in the breakroom at work? Look down and whip out your phone, right?
Just stop it already.
Just say something!
Too often, the folks at work will complain about not having any real connections, advancement, or decision making power in their jobs. But yet, it's not clear what they're doing about it. In fact, they don't even have an answer when questioned about it.
What are you doing to turn these moments for "avoiding small talk" into moments for "using small talk" to get ahead at work and in life?
Here's how Just Say Something can help you:
Increase your visibility and professional image
Overcome shyness and regain confidence
Avoid all-too-common networking mistakes
Define your professional objectives and save time
Avoid people who waste your time and life
Build rapport with everyone you meet
== Table of Contents ==========
Ch. 1: The Dreaded Awkward Silence
Ch. 2: Why Is Small Talk So Hard For Introverts?
Ch. 3: Small Talk Tips and Scenarios
– An Infinite Topic Bank
– General Topics
– Personal Topics
– Avoid These Topics Forever
– The Right Environment
Ch. 4: Rules For Successful Small Talk
– Transformational Listening
– Focused Timing and Frequency
– Conversational Rhythm
– Ultimate Personal Respect
– Masterful Record-Keeping
Ch. 5: Assertive Small Talk Strategy
– Technicians
– Subject Matter Experts
– Middle Management
– Executive Management
– Vendors
– Customers and Clients
Ch. 6: Defensive Small Talk Strategies
– Gossipers
– Chatty Chris's
– Micromanagers
– Know It Alls
Ch. 7: Let The Small Talk Begin
===============================
When you're ready to turn small talk into a skill you look forward to using, instead of hanging your head low and avoiding eye contact, then give Just Say Something a try.
~~~~~
Ready To Make Small Talk Work For You?
~~~~~