Dear Lord, I am calling upon you today for your divine guidance and help for Congresswoman Alexandria Ocasio-Cortez.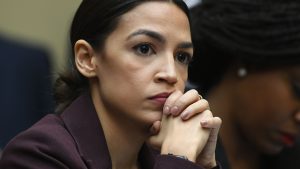 She appears to be in crisis and needs a supporting hand to keep her on Your right and just path. It looks like her heart is troubled and I pray that she will strive to keep it set on you, as your infinite wisdom will show her the right way to a just and right obedience to your Will.
May she not look ashamedly forward to what may happen tomorrow; the same everlasting Father who cares for her today will take care of her tomorrow and every day. Either He will shield her from suffering, or He will give her unfailing strength to bear it.
May Alexandria be at peace then Lord Jesus Christ. May she put aside all anxious thoughts and imaginations, and say continually: "The Lord Jesus is my strength and my shield. My heart has trusted in Him and I am helped. He is not only with me but in me, and I in Him."
St. Thomas More, patron of politicians, please pray for Alexandria.
St. Michael the Archangel, defend Alexandria in battle.
St. Raphael the Archangel, help Alexandria see the Lord's truth.
All the saints in Heaven, please pray for Alexandria.
Blessed Virgin Mary, mother of God, please pray for Alexandria.
Lord God, Author of Life and Source of Eternal Life, move the hearts of all our public officials and especially Alexandria, to fulfill their responsibilities worthily and well to all those entrusted to their care. Help them in their special leadership roles, to extend the mantle of protection to the most vulnerable, especially the defenseless unborn.
Lord Jesus Christ, change the hearts of those who compromise the call to protect and defend life. Bring our nation to the values that have made us a great nation, a society that upholds the values of life, liberty, and the pursuit of happiness for all. Mary, the Mother of the living, help us to bear witness to the Gospel of Life with our lives and our laws, through Christ, Our Lord.
Amen.
Inspiration for these prayers:
https://www.ewtn.com/devotionals/prayers/Prayerforpresidentandpublicofficials.htm

https://catholicsaints.info/saint-thomas-more/